Welcome to the site of David Blaiklock, I am an illustrator and design educator based in Adelaide, South Australia.
The images on display consist of commissioned and self initiated projects, including an archive of previous work. I regularly update my site with new work and news.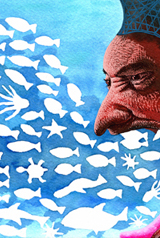 Above:
Plunder- This poster was exhibited at The 1st International Poster Exhibition of Shenzhen 2015.
http://ipf-sz.com/en/
Left:
Sara Bella
- image detail, part of the body of work commissioned by NOI. See Institutional Portfolio section for the complete project.